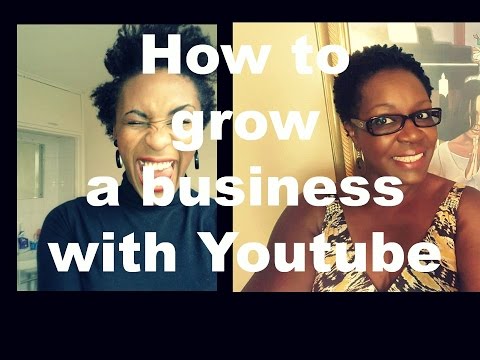 How to grow a business with YouTube? Today's interview is with the lovely Tracey Philips. If you have a business or would like to use Youtube to grow your business, this video is perfect for you.  For more free content go to: http://bit.ly/1OPwbfA After being on Youtube for  4 years and not being very consistent and not so successful,I could see myself slowly giving up. My lack of consistency and eagerness for success was eating at my ego.  I decided to observe and ask some really tallented and creative people to find out if trully possible to grow a business with Youtube. This is when I met Tracey Philips. Tracey has an awesome and jovial personallity but her transitioning story which took her from librarian to Youtube startdom is even more amazing. Prepare to be educated, informed  inspired and possibly cry, I know I did. You can also find this story on my site Whathejobisthis. What I 've learned so far is that growing a business with Youtube takes a bit of time, consistency, shamelessness, of course energy but also a little luck.  If you're new in business or have a great idea that you want to build and share with the world than watch this video. Makes sure you subscribe and leave a comment and I'll let you know when there's a part two or even if Tracey might be willing to train us. I feel really lucky. Thank you Tracey
See you soon!    
Mathy Lisika-Minsende 
Be kind and share this aweosome post with your friends. 
Who is Tracey Tracey Phillips is a Youtuber- Youtube Partner- Author- Creative and independent artist- Educator She is an ex- Librarian who transitioned after 25 years into a more creative career.  She found success on youtube over 6 years ago after a colleague asked her to sing a song and record it and upload it on youtube. She is the author of "Where is My Sneaker?" She lives in Georgia with her husband Bill and two daughters. Bill is the musical genius.Their YouTube Channel (LittleStoryBug) was created in 2009.  They have recorded nearly 400 educational videos for preschoolers and those working with young children. Thier videos have millions of views worldwide and continues to grow. With the encouragement of  her husband,  she started writing children's music. They released their  first music CD "LittleStoryBug's Preschool Songs" in 2012. The following year, they were approached by Our Rainbow Press, and released their first children's picture book.   https://www.youtube.com/user/littlestorybug https://www.facebook.com/littlestorybug https://twitter.com/littlestorybug  
Why not stay updated with all our new blogs here